Book Review: Reviewed by Rabia Tanveer for Readers' Favorite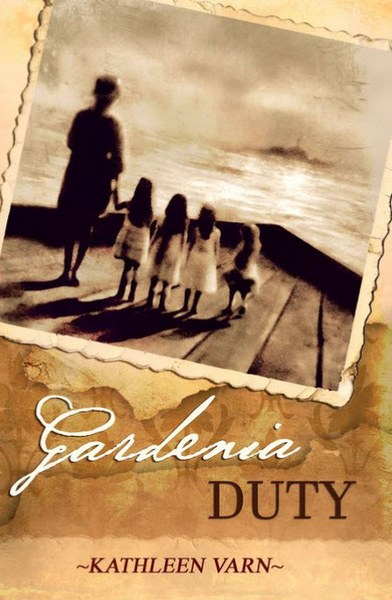 Gardenia Duty by Kathleen Varn is the story of a man who wasn't looking for love, but when love did find him, he realized that it had more layers than he ever anticipated.
Set in 1957, in this story Bobby Higgins is facing some tough times and he has to make some decisions before it is too late for him. As his family is suffering, the Cold War is raging and jobs are almost non-existent, so he leaves for boot camp where he promises himself to offer the best he can for his family. While there were plenty of women to keep him satisfied and happy, he never met a woman who made him want to stay. That is until he met the pretty Rose. He falls for her hard and fast, but she comes with a surprise package. She has four daughters who are at once vulnerable yet so strong. Now Bobby has to make the decision of a lifetime once again. Can he marry Rose and take on the responsibility of her four girls?
This is such a beautiful tale of love, acceptance, familial bonds and just becoming a family. Bobby and Rose created this wonderful atmosphere with their love and affection for each other and their little girls. Bobby's reaction to finding out that the woman he loves has four girls was believable and very real. It would be a hard reality and a tough decision for anyone and the author did a great job of not only making her characters believable but also relatable. It is the small things that count and can heighten the experience of a reader. Kathleen Varn set the pace just right, allowed readers to get invested, connect with the characters and enjoy the story as if they were watching a 3D movie. This descriptive, vivid piece of writing is definitely one of my favorites! An absolute gem!
Read more at ReadersFavorite.com!
READER REVIEWS
October 11, 2019
Ameera, Unveiled is inspirational story of how, with courage to chase her dreams, Kat transforms herself to become Ameera, the exotic belly dancer of the Palmetto Oasis Middle Eastern Dance Troupe. This is a story about of how exhilarating and frightening it feels to take yourself out of your comfort zone and chase your dreams, and the amazing experiences you can have just by trying.
Kat spent most of her life doubting herself and her abilities–especially her ability to learn how to dance. Now at the age of 48, she finally feels comfortable enough in her life to finally pursue her dream of dancing by enrolling in a belly dancing class taught through the local high school. Through each lesson she timidly works up the courage not only to learn to dance, but to discard the self-doubt that she had burdened herself with for too long.
Kat finds herself having to battle with her inner-critic's heavy doses of self-doubt, and anxiety. The story reflects on how some women allow their inner critic to dictate their lives for far too long.
Kat's journey is about how hard it is to overcome years of believing you aren't good enough to do something, but how what happens when you go ignore your inner self critic and follow your dreams. Kat realizes it's not about a lack of talent that is holding her back, but her own self-doubt.
The author, Kathleen Varn, skillfully weaves scenes of everyday women transforming into exotic belly dancers. She vividly portrays, with detailed descriptions of their well-practiced routines and dance moves, and how through their diligence they are able to wow their audiences.
The dancers develop such a strong sense of individualism and self worth as they learn to move in exotic ways. The delightful interactions between each of the dancers is inspirational as they bond as a troupe.The camaraderie developed within the troupe is one of friendship and support that only a sisterhood of girlfriends could create.
And the troupe will need all the support and confidence that they can muster when they are surprised by one of their dance gigs when it turns out to be held at a clothing optional resort in Jamaica. Kat finds herself out of comfort zone in more ways than one as do several others of the sisterhood. But with each other for friendship and motivation, they are all empowered to explore, take chances, and believe in themselves.
Ameera, Unveiled by Kathleen Varn, is a coming of age story of a diverse group of middle-aged woman supporting each other to follow their dreams and to go outside their comfort zones and routines. Reading Kat's journey made me want to put on a shimmery scarf, an exotic flowing skirt, and learn to move in a fashion beyond my own comfort zone. It is an inspiring and fun story that reminds us that it is never too late to pursue your dreams and unlock your inner goddess.
From NetGalley:
Rating: 3 out of 5 stars
Full Text: I appreciated the perspective of this book. This is Kat Varn's first book and it feels like part memoir and part fiction, but where ever the truth falls the story was a whole bunch of fun. I received a copy of Ameera Unveiled from NetGalley in exchange for an honest review, and as such, the opinions that follow are my own and uninfluenced by publisher or author.
I've always been intrigued by bellydance and have secretly wish to learn. Perhaps that is what initially drew me in, the beautiful cover art. Reading this book was like reading a coming of age story for the middle aged. As an empty nest is looming Kat finds the courage to re-discover herself through dance. I found many of the sentiments relatable and inspiring. It takes courage to look at your life and think about what you really want, and that is especially hard (in my opinion) for mothers. After giving so much of herself to her family and her career, Kat takes a bold step toward doing something that she enjoys regardless of her own insecurities.
Reading about her journey with dance is motivational and funny all at once. All of her characters are very real and she has done a great job exploring the bonds that women share and the healing powers of friendship.
Would you purchase this book for yourself or a friend? YES
Notes: This review will also post to my blog, momsbookbanter.blogspot.com
From Reader Billie Brinkly in Baytown, TX
Special thanks to Pulpwood Queens book clubber Billi Brinkley for this kind note about Ameera Unveiled!
"That cover definitely was award worthy! Plus the book is great!" I took belly dancing in my early 30s and that was the last time I had a waist… You have inspired me to try again – It's never too late, according to Ameera :)"
From Goodreads:
Julie's review Nov 05, 2013  4 of 5 stars "I really liked reading Ameera, Unveiled. This was a book that speaks to the inner child in every woman who dared to dream of being a ballerina but was discouraged either by well meaning people or by fate. Kat Varn decides to take up belly dancing. She has always been interested in dance particularly ballet. She never thought that pursuing a childhood dream would yield so much more in terms of self-discovery, self- confidence and most especially the bonds she forged with the women she eventually calls her tribe. A well written novel that would make you want to have a tribe of your own."
*The ARC for this novel was provided by the publisher and NetGalley in return for an honest review*
Terri Ann
rated it
5 of 5 stars
"
Sometimes I just want to curl up with a good "chic flick in a book," and Ameera Unveiled was just that for me. The main character is trying to deal with her desire to/fear of dance along with trying to recover from a prior relationship that was subtly abusive, which can be the worst kind. In this quest, she signs up for a belly dancing class to help her with her dance desires/phobia. Unbeknownst to her, this simple act of signing up for a class opens up a brand new world of friendships, experiences, lessons, and opportunities to grow far beyond what she could have imagined. Whether we're into dance or not, women in general can gain great insights into their own lives from this delightful story."
"

Ameera Unveiled is not just a great story but it's an inspiration to all of us to overcome our own fears and childhood baggage. If you can't relate to Ameera, then you can relate to one of the other amazing women that Ms. Varn writes about. It will make you want to get out there and try something new. I love that Ms. Varn's demonstrates how precious girlfriend time is and the importance of having friends in your life. Well done, Kat!"
From Amazon:
      Well written! April 11, 2014 By Michael Drummond Desmond on
 I thought "Ameera Unveiled" was well written. The story line was free of trite causticity. It was refreshing to read where the main character is not a homophobe and able to enjoy the company of those of the same sex. The story line of personal growth without antagonism was a pleasure to read.
Inspirational! February 5, 2014 She moved me as a person, inspires me to dream , believe and achieve.Now I want to be a belly dancer!  – Grace – Ameera Unveiled (Kindle)
Inspiring! October 25, 2013 "Ameera was recommended by a dear friend who introduced me to a few of the dancers. I thoroughly enjoyed the uplifting message of "girl power", without the addition of competition. I found in very funny and uplifting, and will recommend it for my book club." – Marilynn McMillan – Ameera Unveiled (Kindle)
"Heaven on Earth" October 11, 2013 "This is a WONDERFUL book that should not be missed by anyone. The story is funny, but at the same time uplifting with it's message of overcoming your fears. PLEASE do not miss this one!!!" – By Chaz, from: Ameera Unveiled (Paperback)
Ameera Unveiled September 17, 2013  "A wonderful and very funny story with underlying messages of breaking free from the limitations we allow our past to place upon us, breaking out from self-limiting behaviors, leaving our comfort zones, and in the process, finding healthy relationships, true happiness, and a freedom to do what makes us feel whole and strong. Loved the messages, and laughed with the story line." By Toogoodoo – from: Ameera Unveiled (Paperback)
Refreshing and fun!
August 14, 2013
"In this day of pop culture drama, this story of supportive relationships between a diverse group of women is refreshing. The main character's struggle with stage fright and search for a tribe are very relatable. Laughed and cried while reading – highly entertaining!" –
Deborah Denise Matzelle via Amazon
Wonderful read!
August 10, 2013
"This was one of those books that you can't put down once you start it. At first I was interested in reading it because like Kat, I have always wanted to be an author. Two chapters in, I was hooked by the emotions and honesty Kat shows us all the way to the end. The characters are real people with a lot of the same ups and downs in life as everyone else faces. You can laugh with them and cry with them just like you would your oldest, dearest girlfriend. Just an overall delightful,insightful read." –
A Customer via Amazon
A testament to the power of sisterhood.
July 31, 2013
"I love this book. I loved that the author did not use female competition or animosity as a storyline in the book to add "excitement". How refreshing to read a book about the healing power of true female friendships." –
Grouper via Amazon