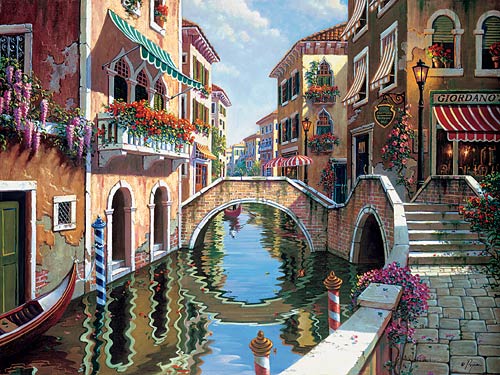 The last day of vacation in Venice: I was just eating gelato.  We had finished lunch served to the sidewalk tables.  Bills paid, napkins discarded.  But, now we were standing off to the side of the yellow gelato cart on a cobblestoned Venetian Calle.  In a soft voice, I discussed the morning with my traveling girlfriend and her two young children.  Italy perfected the art of gelato and my Italian Fodor's guidebook insisted I needed to add the experience to my bucket list. Sweets never called my name, but how could I resist a cup of cafe gelato in Venice?
As a seasoned traveler, I'd hoped to present myself to the Italian community as a respectful American tourist.  I had read Fodor's Appropriate Attire chapter as well.  I wanted to honor the local Roman Catholic.   No makeup.  Knee length Elliott Lauren khaki shorts.  White tank top and beige Salomon tennis shoes.  Ponytail pulled through my post-Greek cruise sun visor.
Before I'd left the hotel this morning, I'd anticipated spending the day walking the Calles and bridges, freckled with the hands of the poor asking for alms.  As a sentient, I resolved to respond to their religious motivation rather than ignore the pleas imposed on my vacation itinerary.  My heart tore between admiration for the conviction motivating them—and sadness of my own assumption of their oblivion to the beauty of Venice.  I revered the silver crown of an elder and refused to demoralize the pious request for pennies.  I had stocked my pockets with spare change to drop in the paper cup grails.
All morning we wound through serpentine streets lined with porous stone structural facades.  My eyes feasted on the elaborate doors with layers of lacquer and paint crowned with eclectic masonry from the chisels of authors centuries ago. The beauty invested by the hands of the artisans fortified my vacation memories, and inwardly I sang praises to the ancient culture of the floating city.  Water taxis hustled along the canals.  Strolling bridges, we stopped and observed gondolas skillfully maneuvered through the Grand Canal, diverting to small hidden, watery alleyways, tiered with colorful laundry lifted by the breeze off porticos.  Briney cord rope bore the weight of Levis, cotton shirts and unmentionables as the sea breeze lifted them.  Venetians could make drying laundry romantic.
But as we walked the Calles, not everything was picturesque. Street corners were littered by careless guests as they ate pizza and discarded soda bottles on their way to Rialto Bridge.  The old shops no longer housed hats or silks but were leased to Gucci, Versace, Bata, Salvatore Ferragamo.  We veered from the interior streets toward the water, discovering sporadic displays of graffiti staining the blocks of hand-cut, stone walls.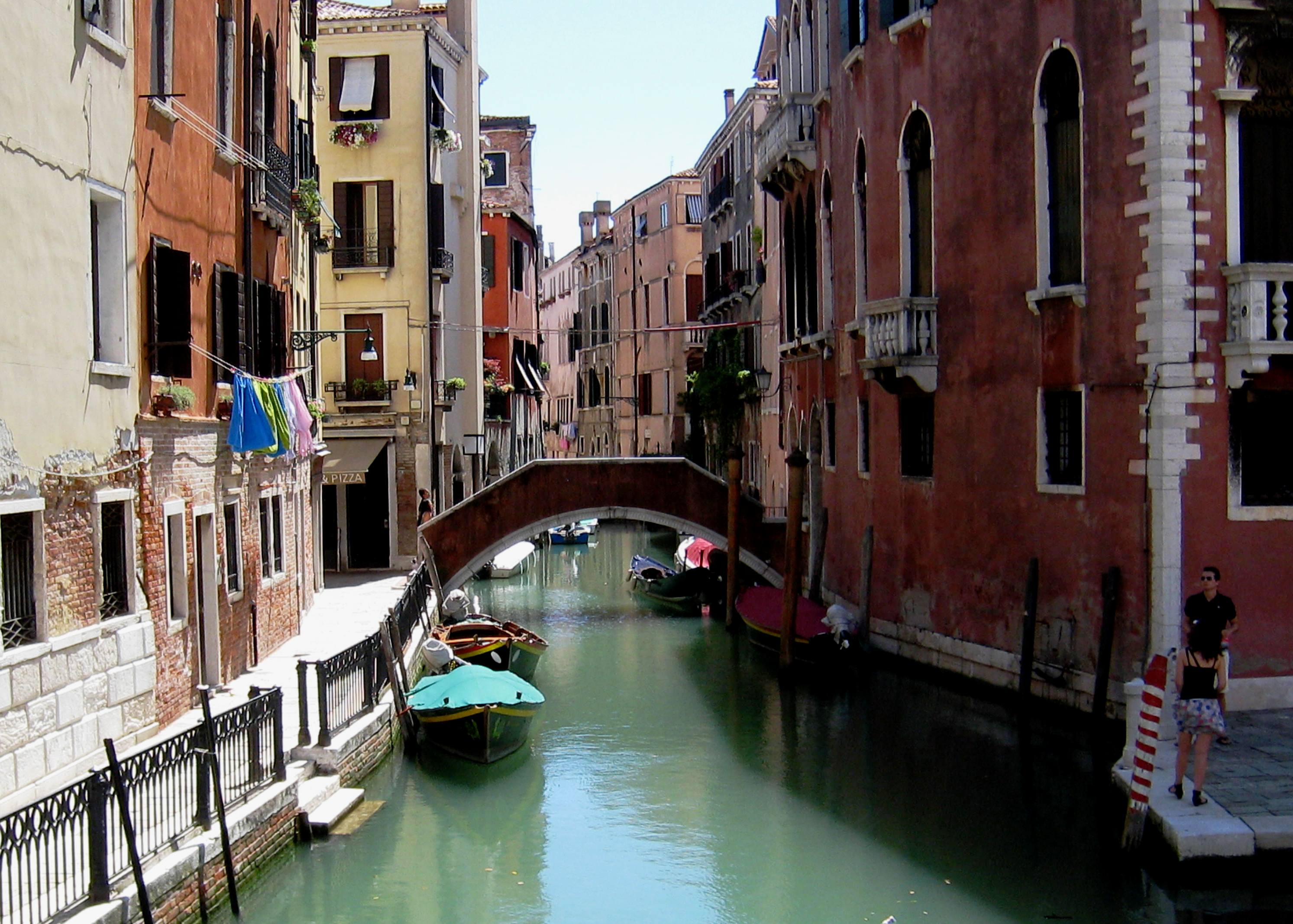 Our little group passed a plethora of cathedrals.  Wandering down Calle Fianco de la Scuola, the dead end alley presented a massive consecrated façade.  In unison, we said, "Wow."  Our feet instinctively ushered us to approach the doorway.  We'd discovered Chiesa di San Rocco—one of the Plague churches built in Venice centuries ago.  The bronze plaque enlightened us to its patron saint, St. Roch.  He protected from pestilence.  A confraternity erected the cathedral, bound by the common interest of healing the sick.  His bones rested under the foundation.
Before I entered, I read the posted rules:  No photos allowed.  No problem.  I accepted my role as guest and put the camera away.  My eyes adjusted to the dimly lit sanctuary.  Cool marble walls entombed the bones of Bishops—the room punctuated with gold through the ornate lighting fixtures to the edges of ceremonious chairs.  Scanning the holy chamber, I mentally filed visions of murals of St. Roch ministering to the sick.  All five senses worked to satisfy my awe and wonder of the vast tabernacle as I inhaled the cool incensed air.  Dropping coins in the slot of an ornate brass bank, I followed my friend's lead to light a candle in honor of a prayer.  My faith was Pentecostal; she was Catholic.  I placed the candle and hoped the symbolic act sent thanks to Italian ghosts for sharing the beauty of Venice.
But hours later, I was just eating gelato.  My eyes strayed across the town square.  A large tour swarmed after a blue streamer baton held by its guide, speaking a language I could only guess.  Dutch, German, Italian, Japanese? The aggressive energy of mob mentality rushed them down the cobblestone arteries in loud chattering decibels.  Fashion ranged from European chic to cut off blue jeans and a tee shirt with dirty white bra strap hanging off the shoulder.  The group seemed uninterested with the craftsmanship of residential cypress doors pierced with tarnished brass mermaid knobs, guarded by stone gargoyles.  They were oblivious to the pigeons crouched on ledges, preening among the Madonna icona over their heads.  I had set my sights on preserving the beauty through the eye of my Canon Rebel after my gelato. I wanted to shout, "Slow down! Look around! Wake up and enjoy the gelato!"
Then, out of the corner of my eye, I glimpsed a hunching elderly woman scooting up Calle Ogio, hands folded on her drab peasant skirt.  The grey-haired woman drifted closer and closer to me, picking up her shuffle as if there was urgency.  But, I was just eating gelato.  No worries.
She drew closer, with more urgency.  Raising her head, the wrinkled lips were moving but not yet audible.  Then, the Italian dialect increased in intensity and volume.  Reaching into my alms pocket, I did not resist her approach; however the edgy foreign words solidified the mood of her message.  Her angry countenance and speech pelted me.
She shoved a bony finger in my face, and then at my knees with more untranslated hissing Italian arrows.   With my best "Non capisco" expression, I resisted emoting a defensive façade.  After all, I had been a Venetian ally the entire morning.  My eyes remained serene as I sought for a hint of translation.  She climaxed with a repetition of phrases that I hoped to translate, "Welcome to Venice, Kat.  We're so glad to have you."  But the old woman's gestures expressed disgust.  As she finished, I thought she might even punctuate the conversation with a well-aimed Italian goober.
As quickly as she berated me, she shuffled off.  My friends and I stared at each other.  I couldn't dream of what message she deciphered from my fashion or my savoring a cup of gelato.  I had read Fodor's guide and felt well groomed in proper attire and what to eat in Venice.
I tried to slow my spinning thoughts, wanting to understand the encounter.  In light of the history of Venice, I presumed she possessed a deep Catholic faith and felt it her duty to evangelize me.  An admonition from a veteran Venetian to an American tourist to respect the old ways?  Rationalizing, I tried to find reasons that the old leathered woman judged me.  I accepted the fact that it was her city.   Her simply clad body personified an era of piety and modesty of the local parishioners.  Maybe she was from a peasant class family wrestling the historical debauchery of the aristocratic class.
Did I strike the chord of nobility who savored the cream of privilege?  Was I guilty of too much eat, drink and be merry?  Maybe she had been required to help in the family grocery store while privileged peers whispered about her shabby homemade skirt accented with a frayed cotton apron.  Had a self-proclaimed Venetian princess strolled the perfume aisle, oblivious to the young devout girl? Had some privileged aristocrat emitted catty confidence that she would pick from a dance card of princely suitors at the next Carnevale? While in contrast, on the eve of Carnevale, my Venetian relic prayed for the souls of the colorfully masked sinners but may have confessed to her priest, "Father, I have sinned. I envy."
It was 2010 and her world was sinking.  Tides like time had risen over seawalls and stone carved steps she'd explored as a young girl against her mother's charge to stay away from the murky water.  Venetian lamps faithfully lit the squares where suitors tried to catch her eye, exiting Mass in Sunday best with family.  Perhaps she settled on a simple boy who could enlist in the merchant marines or row the gondola—wanting her to bear children during his adventures.  In her parish, most had never left the shore to find new lands.  She had accepted the edicts of the Church to be meek and labor to enter her rest by denying herself.  Pleasure was reserved for the afterlife.
Now, the Church where she married was explored by sweaty bare shouldered tourists, unaware of the devotee in the pew praying with a rosary moving nimbly in her fingers.   Adding insult by ignoring the sign:  No photos allowed.
Foundations of her neighborhood's homes, the butcher's shop, and tatter's store eroded as time brought changes through the rising waters in the canals.  Tides slapping and conquering first floor elevations forced residents to retreat to the second stories.  Artisans' frescoes were replaced by phantom graffiti artists.  Her family and friends were ghosts that she waited to join on the other side.  Her beautiful city of music and art was on a black and white postcard.
I was only eating gelato… baffled.  But, I reminded myself that I was a guest in a city overtaken by masses of tourists, souvenir shops and knockoff bag hawking like the rats that roamed the submerged levels.  What had happened to the protection of St. Roch?  Patron Saint of pestilence?  Looking into the blue sky, I prayed that my sincere presence would somehow project to her if she recalled our encounter.  She represented a generational icon.  I petitioned God for a pardon– anything that my generation or stereotype might have done to offend her Venetian memories.  At the end of my supplication, I tucked the event in my heart's catacomb to ask someday in eternity, what happened while I was just eating gelato?