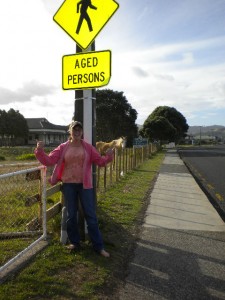 Until I entered my 40's, I had 20/20 vision and shared my clothing with my young adult daughter. I line danced at a local country dance club, Desperado's, until 2:00 a.m. and went to Pappy's for $1.99 breakfast– then went to work on less than four hours of sleep.
I suppose due to my late bloomer genetics, my abdomen was in decent shape, allowing me to get away with a two piece bathing suit. I could eat anything I wanted. I benefited from the oasis of youth.
Then I was over 50 and I guess I crossed into the menopause desert. The oasis began drying up– or getting farther away. A month before my 50th birthday, I received my AARP card. I was wearing multi-level glasses. The muffin tops were rising, and I was more interested in watching Dateline on the weekends than dancing through the night. Hot flashes interrupted my routines both day and night. My digestive tract became pickier and pickier, weaning bread and dairy from my diet. A friend encouraged me to start a probiotic. The first thing I thought of was The Bionic Man. Again, who under the age of 50 remembers that show?
After a quick Google search (see? I'm hip), I'd found a UK author and blogger, Carol Wyer, who promotes "Facing 50 with humour and encouraging others to age disgracefully."
I've always been a believer of keeping humor in all phases of my life– high or low. This new phase in my life required that more than ever! I'm all for aging disgracefully. Amen, Carol!
As I drove to the health food store for the probiotics, I took inventory of my aging journey. Clothes I'd worn in the 70's and 80's were making a comeback with the younger generation. But I refuse to throw away my patchouli, bell bottoms or peace signs. At age 49, I took up belly dancing. My husband and I continue to scuba dive with the youngsters. And I won't put my bikini away. Of course I had to remind myself of the errand at hand… where was I going? Focus! (Another menopause symptom?)
I found the supplement clerk and she immediately pointed at several bottles and rattled off how many billion cultures and probiotic strains were on the shelf of the refrigerated cabinet. Finally, she reached and presented me with the one she insisted would be perfect for me. Garden of Life Raw Probiotics for Women 50 & Wiser.
50 & Wiser? I chuckled all the way to the check-out. I'll bet Carol would have too!
So, don't despair, fellow 50 and wisers… I remembered another website's quote during my original Google search: "As you walk through the desert of life, may you always find your oasis — a place where you can find safety and sustenance."