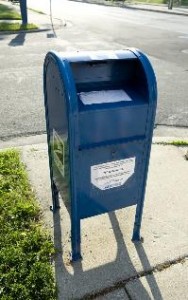 I grew up in the days of pen pals. Looking back, the closest I got to social media were ads in the back of my comic books or Mad magazine. There were little postage stamp size ads with addresses to find a pen pal in another part of the country. I'd use loose leaf paper and start with "Dear Pen Pal… How are you? I am fine." I probably asked what was their favorite television show, cartoon or share what book I was reading. I'd give them to my mother and she would show me how to address the envelope. I'd lick my stamp before depositing in the classic blue tin mailboxes. I can still hear the clunk of the door when I released it from tip toes. Ahhhh… the days of snail mail have been left behind by the internet energizer bunny!
As I moved into adulthood, marriage and parenting, I looked forward to finding a fat envelope in my mailbox. I was eager for news and updates from my out of town friends and family. The fatter the envelope, the more excited I became as walked back to the house. It was like Wells Fargo or the Mail Boat had visited and left precious cargo.
Since 2000, my new pen pals tend to be connections through social media. Last night I received a Facebook message loving the message from a gamer of my recent book. I was reflecting on how amused I've been with my Facebook game friends. I have friends all over the world that I've met through Farmville, Candy Crush and other minor distractions. Shari Stauch opens new social media doors for me to promote my love of writing. As I promote, Ameera Unveiled, my gamer friends leave me messages declaring their amusement and enjoyment of her journey. It brings back that same feeling I experienced seeking pen pals.
Stay in touch. As much as we tend to resist change and love the clanging of that blue tin mail box, I also love hearing "You've Got Mail!" or So-and-So needs lives.