I launched my debut novel, Ameera Unveiled, on July 25, 2013. Subsequently, I've been pushing her into the internet waters. What an endless sea of opportunity to navigate! As the captain of this ship, I am blessed to have the support of BQB Publishing and their managers. Shari Stauch of Where Writers Win keeps me on task and sets my course for the next portal of call. Being new to marketing and social media, sometimes it is a slow and tedious assignment.
But since the launch, I've been researching a new idea using my childhood experiences as a Navy dependent. I am laying the keel for my next project.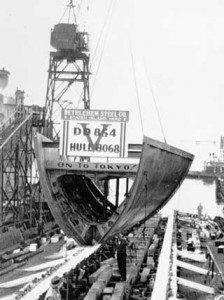 My writing room is littered with my father's military record, the shadowbox with brass plates of ship assignments, and personal possessions that would have been on his desk or dresser. His dress blues hang on a doorknob proudly displaying five gold hashmarks. I've been privileged to make new friends with veterans through the VFW and American Legions. I loved attending Liberty Call with the Goose Creek Tin Can Sailors. They've embraced my request for stories of their glory days. I've climbed and descended into the bowels of the USS Laffey at Patriots Point. The smell of grey paint and fuel refreshes my childhood memories of visiting my dad's floating office.
My new Orders? Start writing it. In my mind, I stand across the word-processing shipyard and watch as the keel is laid. I've set my compass and now I have to follow my heart on where the story will take me…