The most common feedback I get from readers of Gardenia Duty is the very one I used in my Acknowledgement: Nostalgia. As I researched the time period for my Higgins family, I not only read and dove into so many historical rabbit holes… but heard songs from the past. My favorite local radio station plays predominantly Babyboomer music. In various stages of the book, I would keep post-its in my car. If I heard a song that resonated with a particular scene, I'd jot it down. Most had a common plea of love of self, familial or romance that was a focal point of my novel.
I decided I would create My Playlist songs if other readers who inject reading as I do…a pairing of words and music– which are still words! Here I go and reveal my top #35 songs that resonated with my effort to share the life of the Higgins family! Bon Appetit! It may seem long but easy access to what I watched and heard as that oldest child in a complicated social and familial transition: From zero to 61 years….
Gardenia Duty – "This One's for the Girls" by Martina McBride OR "He Didn't Have to Be" by Brad Paisley
Prologue – "You Could Hear Me" by Jocie
Chapter 1 – "In My Life" by The Beatles
Chapter 2 – "Good Riddance" by Greenday
Chapter 3 – "What is Life" by George Harrison
Chapter 4 – "Wink & a Smile" by Harry Connick, Jr.
Chapter 5 – "I Got You" by Leona Lewis
Chapter 6 & 7 – "Anchors Aweigh" (Navy theme song!)
Chapter 8 – "Butterfly Fly Away" by Hannah Montanah
Chapter 9 – "Sweet Home Alabama" by Lynyrd Skynyrd
Chapter 10 – "Satisfied" by Jewel
Chapter 11 – "Ring of Fire" by Johnny Cash
Chapter 12 – "Morning Has Broken" by Cat Stevens
Chapter 13 – "Time" by Alan Parsons Project
Chapter 14 – "Count on Me" by Bruno Mars
Chapter 15 – "The Deployment Song" by Emay Holmes
Chapter 16 – "Homeward Bound" by Simon & Garfunkel AND "Kind & Generous" by Nathalie Merchant
Chapter 18 – "Simple Man" by Lynyrd Skynyrd
Chapter 20 – "Dumb Blonde" by Dolly Parton
Chapter 21 – "He Didn't Have to Be" by Brad Paisley
Chapter 21 – "Space Oddity" by David Bowie (Audrey's loss)
Chapter 22 – "Guess I'm Falling 4 U" by Michael Bublé
Chapter 22 – "You Don't Own Me" by Lesley Gore
Chapter 23 – "I Will Survive" by Gloria Gaynor
Chapter 26 – "Home" by Michael Bublé
Chapter 28 – "Head Games" by Foreigner
Chapter 29 – "Stronger Woman" by Jewel
Chapter 30 – "In My Blood" by Shawn Mendes
Chapter 31 – "Roar" by Katy Perry
Chapter 31 – "The Rose" by Bette Midler
Chapter 32 – "Turn, Turn, Turn" by The Byrds
Chapter 33 – "There You'll Be" by Faith Hill
Acknowledgements – "We Are Family" by Sister Sledge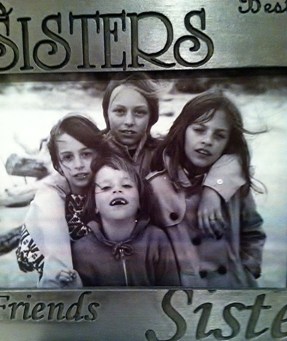 There are so many others but I narrowed this handful down. My memories growing up during the same Cold War period as the Higgins family is full of music that my mother filled our home with. My sisters and I danced and performed to our own 33-1/3 and 45s. Like my characters, the music is women empowered, spiritual musings, metaphors to scenes, and even melancholic. But, I find real-life full of all ranges of emotion and personal growth. Leave me a song that came to you while reading Gardenia Duty. Cheers!