I kept the postcard on my desk of this painting by my friend, John Carroll Doyle. It reminded me of the challenges of growing up in a career Navy family. The world lost the presence of John Carroll on November 12, 2014 and his artistic visions. I was not only privileged to be his friend, but he extended many opportunities to drop-in his studio as he painted. Nothing on canvas was placed without conviction and a deeper message.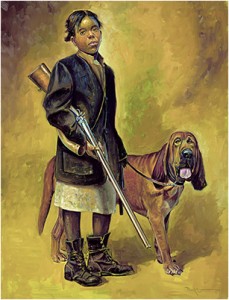 I am the first born in my family. I can look at the simplicity but complex layers of this young girl. John Carroll's insight of what inspired him to paint her can't be said better: "I saw children like this in my youth while hunting with my father in the Carolina lowcountry. Children, who through necessity, were forced to grow up fast.
"The girl walks in a man's shoes wearing a pair of heavy boots. Yet under her masculine jacket, the hem of a delicately flowered skirt reveals her femininity. The Bloodhound, a breed favored by royalty or blooded people, symbolically connects the girl to her own noble soul.
"The 16-gauge shotgun held by the girl is more than a means to feed her family. It embodies a code of ethics and responsibility handed down through generations."
I took solace from his message. I pictured my father's destroyer leaving the pier for months of absence.  I stood watch preserving the family bonds with sisters and a mother keeping the home fires burning. The sixties and seventies were a whirlwind of change. In spite of lack of instant information, we developed resilience and coping skills as we hoped for their safe return. Or not. I lived through the cusp of the women's movement and managed to be sheltered from some of the more serious social issues.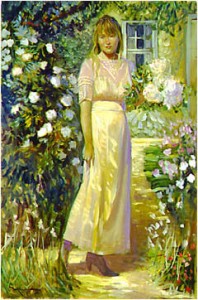 But, looking back… I see my young girl body in those heavy boots, my father's Blue Dress Jacket waiting to blossom into the responsible but feminine lover of life. I've been blessed to shed the cloak and experience the glitter of belly dance. I wiggle into a lycra wetsuit and seek the beauty of the oceans. Or sometimes, I just wear patchoulli and hippy clothes down at Avondale on a Friday night with hubby and family.
Thank you John Carroll Doyle for seeing the vision of the little girl in her father's boots when you painted In Her Thoughts. I truly felt the message. I cherish the times we spent together and got into each other's thoughts.