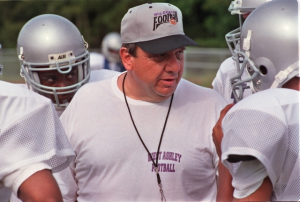 "A teacher affects eternity; he can never tell where his influence stops" – Henry Adams
Last week ended with the exciting privilege to blog for WestAshleyPatch.com. After I met with editor, Jonathan Allen, I floated home with my head in the blog clouds. I felt giddy and couldn't wait to sit and play with a new amusing blog. I decided to let the subject swill in my mind overnight so I wouldn't rush the project.
Friday morning: I fired up my computer, checked my e-mails and cruised Facebook. I was in a hurry to start my first blog draft but my eyes fell on a Facebook post announcing the loss of one of my favorite teachers—Coach Jim Werden. As students, we always referred to him as Coach Werden. As I read the obituary, it dawned on me that we were only ten years apart in age. His career started at the age of twenty-four. From my adolescent view, I was a teen and he was old!
The Navy transferred my family to Charleston in 1971. One year later, I was promoted to ninth grade attending Middleton High School. I was a freshman Razorback! For the next four years, Coach Werden wore many teachers' hats: World Geography, Driver's Education, Gym, and he coached the football program. He was friendly and invested in his students and athletes. I was shy but academically above average. I'll always remember how he'd encourage me to raise my hand and answer questions. Looking back, he was helping me exercise using my voice in the classroom to lessen my timidity.
When I was old enough to take driver's ed, I found driving the car extremely difficult. He never embarrassed me but helped me laugh with him as I tried to learn to start and stop. I still see him jerking forward in the passenger seat as I overused the brakes! I can honestly say that Coach Werden is the only teacher that I've gone parking with—teaching me parallel parking, people! It was the only thing I learned proficiently in that class. He taught me how to line up the back window to the bumper of the first parked vehicle. To this day, I can zip a car into a downtown parking spot flawlessly.
In a time when most youth aspired to be rockstars or celebrities, Coach Werden had dedicated his life to be a public high school teacher. For twenty-nine years, students walked the halls to his class or stayed after school for football practice. As we graduated and had children of our own, he taught the next generation with the same dedication and nurturing spirit. In 2001, when I enrolled my youngest child in West Ashley High School, I passed his office where he was working on papers. I tapped on the window, he looked up and smiled. I pointed at my son and he shook his head—still grinning.
Three days since his passing, I already feel a hole in my heart for the warmth he showed me even after I walked across the stage to receive my diploma. I will always smile as I parallel park my car on the streets of Charleston, effortlessly, thanks to a patient coach.
I find it a privilege to dedicate my first blog to you, Coach Werden! God bless your family. You will be missed by so many whose lives you touched.
"Jim was a retired Teacher/Coach with the Charleston County School District and served Middleton High School from 1972 until 2000. Jim was recognized with numerous football honors to include Coach of the Year eight times and amassed a football record at Middleton High School with 210 wins, 133 losses and only seven losing seasons in 28 years. Additional honors include: 1985 AAA Lower State Champions, 1985 AAA State Runner-up, 1984 Assistant Coach for the North-South All-Star Football Game, 1986 Assistant Coach for South Carolina in the 50th Anniversary of the Shrine Bowl of the Carolinas, 1989 Inducted into the Wesley College Athletic Hall of Fame, 1992 Head Coach for the South All-Stars in the North-South All-Star Football Game, 1997 Head Coach for South Carolina in the Shrine Bowl of the Carolinas. South Carolina won 21-20 in what Shriner's have described as the "best comeback victory in Shrine Bowl history." He is survived by his wife of 39 years, Linda Werden of Charleston; his mother, Anna Werden of Dover, SC; son, Christopher James Werden of Charleston; brother, John R. Werden of Clearwater, FL; sister-in-law and brother-in-law, Marie and Marion Wright of Walling, TN; nephew, Bryan (Regina) Wright of Brush Creek, TN; grand-nephews, John & Jack Wright; sister and brother-in-law, Edna and Cleston Daniels of Livingston, TN; and niece and nephew, Aurora Daniels and Michael Daniels. Memorials may be made to the Charleston County Retired Teachers' Association, C/O Cherokee Place United Methodist Church, P.O. Box 70396, North Charleston, SC 29415-0396. A memorial message may be sent to the family by visiting our website at www.jhenrystuhr.com. Visit our guestbook at www.legacy.com/obituaries/ charleston"