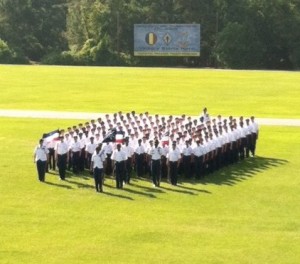 One week after rifling through The Lords of Discipline (author Pat Conroy), I was driving to Ft. Jackson in Columbia, SC. My nephew was graduating Army boot camp. His brother had joined five years earlier. I was no stranger to the military way of life in that both of my fathers were career Navy men. Charleston was the ultimate destination for my stepfather's final assignments. Many of my high school classmates chose to attend Charleston's military college, The Citadel. So, I'm a sucker for a uniform. And, I was a little more enlightened regarding the military drill process when I finished Pat Conroy's book.
Between the Army band's performance and the final presentation march, Lt. Col. J. C. Glick addressed the platoons. His speech is still playing in my head in that it applies to anyone—not just the new soldiers. We've all had a boot camp moment in life. He offered three pieces of advice. I compared the advice to my own personal triumphs in spite of the hardship that accompanied the victory.
Be Proud. He reminded the troops that on their first day that he would not thank them for promising to serve in the US military—he'd thank them as they'd stand before him on graduation. They'd paid their dues and were entitled to feel deep pride.
Never become Complacent. Just because they had completed their first training phase, they shouldn't become complacent. They were to stay in a state of awareness and education. They were not allowed to make an excuse to skip running the last mile or skip push-ups. Be warzone ready.
Be Humble. It balances pride. It took each other's support and unity to reach the point of graduation. Friendships were forged and bonds created that would last a lifetime. They were advised to not allow a sense of superiority to shadow being a soldier. A soldier that is part of a larger Army unit, a contributor to a community—a nation.
In the wake of the graduation, I looked back into my own boot camp towards adulthood… childhood. And then, I sifted through the battle grounds in my life involving relationships, marriage, parenting, career and personal growth. As I emerged from each excursion, I felt proud, intuitively knew to never become complacent but also strive to remain humble because I never got through it solo.
Good words, Lt. Col. Glick.